Expertise Needed
When it came to planning Keller Williams Portland Premiere's Market Center space in a former dance studio, Amanda Light, MAPS Leadership Coach/Interim Team Leader, knew how many sales associates she needed to accommodate and could conceptualize how she wanted her new digs to look. She also knew that advice from Office Planning Solutions, the expert in real estate office design, would help her vision become reality.
The Market Center required multiple types of work environments and a training space large enough to hold the teams and producing sales associates who gather at Portland Premiere. It had to simultaneously support collaboration among more than 200 associates and welcome new recruits.
The new location offered plenty of square footage, but the space was far from being a blank slate to work from. Rather than a big open area in which to design an ideal Market Center, the space had separate wings. Existing walls divided it into smaller sections. Two industrial overhead doors stood at a back wall.
How to fit everything in comfortably, aesthetically and in a way that supported business goals – one that highlighted Keller Williams' brand and culture – was going to take creativity and know-how.
Amanda asked Office Planning Solutions to help implement her ideas with a space plan that would meet business goals and expectations and fit into the existing structure.
"We have used Office Planning Solutions on multiple office builds now, and they never cease to impress us," says Amanda. "Their knowledge of the KW model has been key to helping us design smart, beautiful spaces."
Office Planning Solutions' collaborative approach ensured that the Portland Premiere project was a success. "When we interview clients, we guide them to talk about their requirements and ideas. It becomes an intimate, collective process to bring about what our client envisions," says Kara Copeland, design principal of Office Planning Solutions. "Our approach combines listening to our client to gather information with consulting on the best use of each individual space to meet specific market needs."
Meeting Challenges
For the Portland Premiere Market Center, Office Planning Solutions turned the challenge of using an existing space into an advantage. Placing dozens of private and team offices and workstations throughout pre-built sections of the building helped control noise transfer within the thriving Market Center. Planning small enclaves of office space also kept costs down because the design maintained existing walls, which helped control added construction expense from demolition and reconfiguration.
The space plan features rows of lead generation rooms that drive daily sales success. Glass panel doors on the prospecting/phone booths allows natural light in so associates feel comfortable and can spend hours making sales calls.
To encourage drop-in agents to use the Market Center, Office Planning Solutions designed two flexible areas where more than a dozen associates work at unassigned drop-in desks. Nearby desk-height locking cabinets are an added perk that associates use to secure their computers and personal belongings yet still keep them accessible.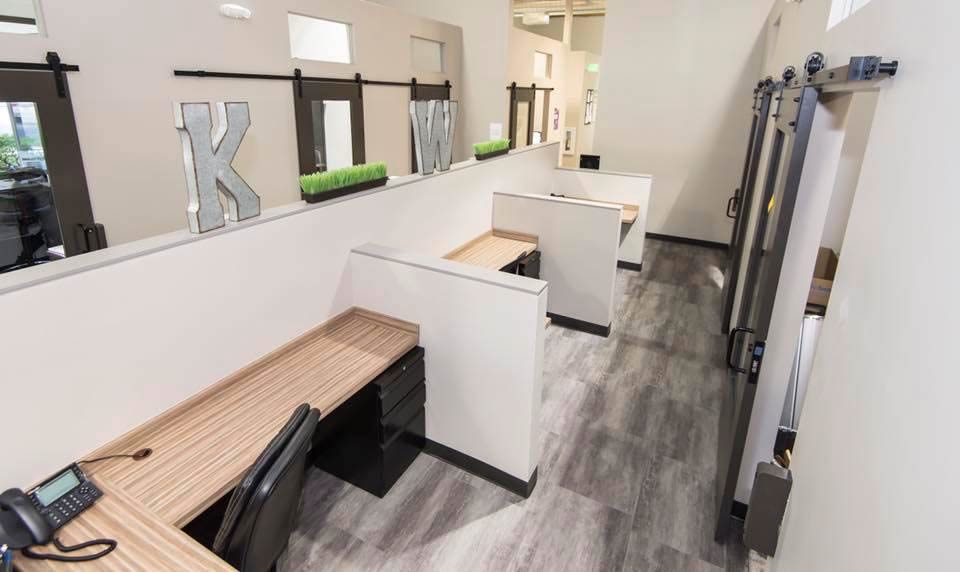 A desirable design feature
Glass-paneled barn doors for the internal offices save space because they slide rather than swing open. They also bring natural light into the office.
Assigned workstations are located near enclosed offices that are rented throughout the suite to further support the way sales associates work. This resourceful design allows team members to work together while independent, capping agents have the private room they need.
Office Planning Solutions recommended glass-paneled barn doors for the internal offices to save space because they slide rather than swing open. They are also a desirable design feature that brings natural light into the office.
Everyone in the Market Center can access various options for comfortable places to work, such as a break room with small tables and built-in seating and a town square/café with impromptu meeting space, lounge seating and teamwork-inspiring work areas. Associates also do business in two client presentation rooms and a larger private conference room. Having so many multi-purpose, collaborative spaces supports the Keller Williams culture and entices associates to work in the Market Center.
Flexibility comes from a glass movable partition between the town square/café and the training room, which keeps the Market Center visually open. It allows the two spaces to become one large area that accommodates more people for large group functions.
Office Planning Solutions located the training room adjacent to an existing metal garage door, and replaced it with a glass overhead door so large group events easily overflow outdoors onto a patio area for parties and after-hours gatherings.
Office Planning Solutions' knowledge of the KW model has been key to helping us design smart, beautiful spaces.
Amanda Light
MAPS Leadership Coach/Interim Team Leader
Design Success
The original space had its limits, but the Portland Premiere Market Center has proven to be an inviting place for hundreds of associates, and it has the potential to expand into adjacent space.
When the Market Center's Team Leader takes potential associates on a tour through the space, strategically placed branding visuals prompt discussion about Keller Williams' story and value proposition.
"Our Market Center design makes for impressive power walks, maximizes profitability and keeps our associates productive, engaged and energized," says Amanda. "We will be back for more Office Planning Solutions' advice when we outgrow our space, once again."
Read More
Keller Williams Approved Vendor Program members are business entities independent from Keller Williams Realty, Inc. Neither Keller Williams Realty, Inc. nor its affiliated companies warrant Office Planning Solutions, their products, or their services.